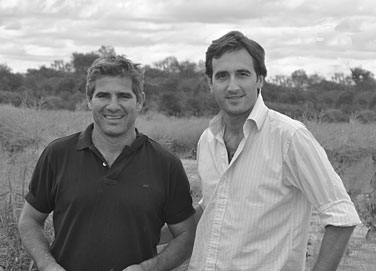 Eduardo and Xavier Artagaveytia
EXA is managed by brothers Eduardo and Xavier Artagaveytia. Both count with a historical link with the country in Uruguay and a vast network of contacts abroad.
They share a marked entrepreneurial vocation and complement each other through their different work experiences.
They are partners in agricultural ventures, both in Uruguay and Paraguay.
Profiles
Eduardo Artagaveytia Pereyra
Agricultural Technician.
He obtained a scholarship through Instituto Plan Agropecuario (Agricultural Plan Institute) to be part of the program "Administration and Management of Agricultural Farms" at the University of Alberta, Canada.
He worked as operations manager of a feedlot and then, for more than 10 years, as manager of a dairy farm.
Since 2002 he is the owner of the firm "Eduardo Artagaveytia & Hijos" (today EXA Logística) engaged in the selling of supplies for agriculture and provider of personalized transport services with delivery at the establishment.
eduardo@exa.uy
Xavier Artagaveytia Pereyra
He studied at Universidad Católica del Uruguay (Catholic University of Uruguay), the Degree in Agricultural and Livestock Management and Production.
He obtained a scholarship by the College of Agriculture of the University of Minnesota, United States. He participated for more than two years in a program of academic and applied agricultural training. He was also awarded a scholarship for agricultural training in New Zealand.
In 2001 he settled in Paraguay to work with Rodrigo Artagaveytia. These were the beginnings of "Estudio 3000 Paraguay" (todayEVERDEM, a company with which EXA has a strategic alliance).
For over a decade he was Commercial Manager of the Tacuarembó / Marfrig Group, the largest exporter of beef in Uruguay. In Marfrig Group, Xavier acquired a deep knowledge of the European, Asian and North American markets; constantly traveling to these destinations in search of new business for the company.
xavier@exa.uy